How are minority staff and students treated?
Is there a problem with racism
in the former School of Music
at Kingston University?

Dr David Osbon was appointed as Director of Performance in the now former School of Music at Kingston University in January 2005.
(video of David Osbon's conducting of Beethoven's 9th Symphony with the Kingston University Orchestra)

Let's take a look at some of his most 'interesting' views, and you can judge for yourself whether or not there is a problem with racism in the former School of Music:-

Here is what Dr Osbon has to say on the subject of making reasonable accommodations for the religious practices of a Muslim student:-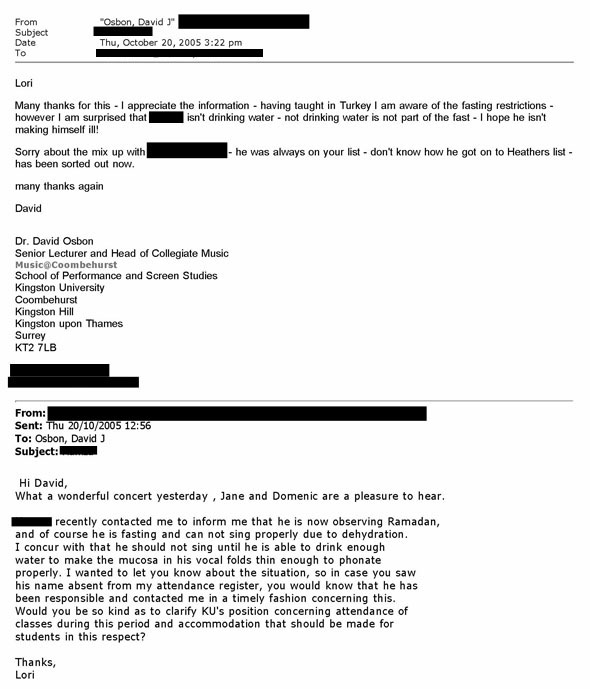 Here is what Imam Ibn ul Qayyim al Jawziyyah has to say about the Ramadan fast.
Does Dr Osbon think he knows more than Imam al Jawziyyah about whether or not it is permissible to drink water during Ramadan?
More importantly, does Dr Osbon feel that his understanding of Muslim practice should prevail over the expressed views of a Muslim student?
And why didn't he answer the question directly about Kingston University's policy concerning accommodation of Muslim students' religious practices?
After all, if he didn't know the answer to the question, surely he could have asked his line manager, Dr Carol Gartrell about the policy, couldn't he?
---
In August 2005, Lori Fredrics, who happens to be Jewish, requested reasonable accomodations for her own religious practices in order to observe the Jewish High Holy Days, which include Rosh Hashanah (2 days), Yom Kippur (1 day) and the period between these dates, known as the Days of Awe, where quiet introspection should be practiced and visits to the gravesites of loved ones should be undertaken.
The period of her request for unpaid leave corresponded to a period when no other part-time hourly-paid instrumental/vocal lecturer was required to work, and thus, there was no legitimate business reason for such a request to either be refused or for her to suffer financial detriment as a result of this request.
The following is the sequence of correspondence between Ms Fredrics and her line manager, Dr David Osbon concerning her request:-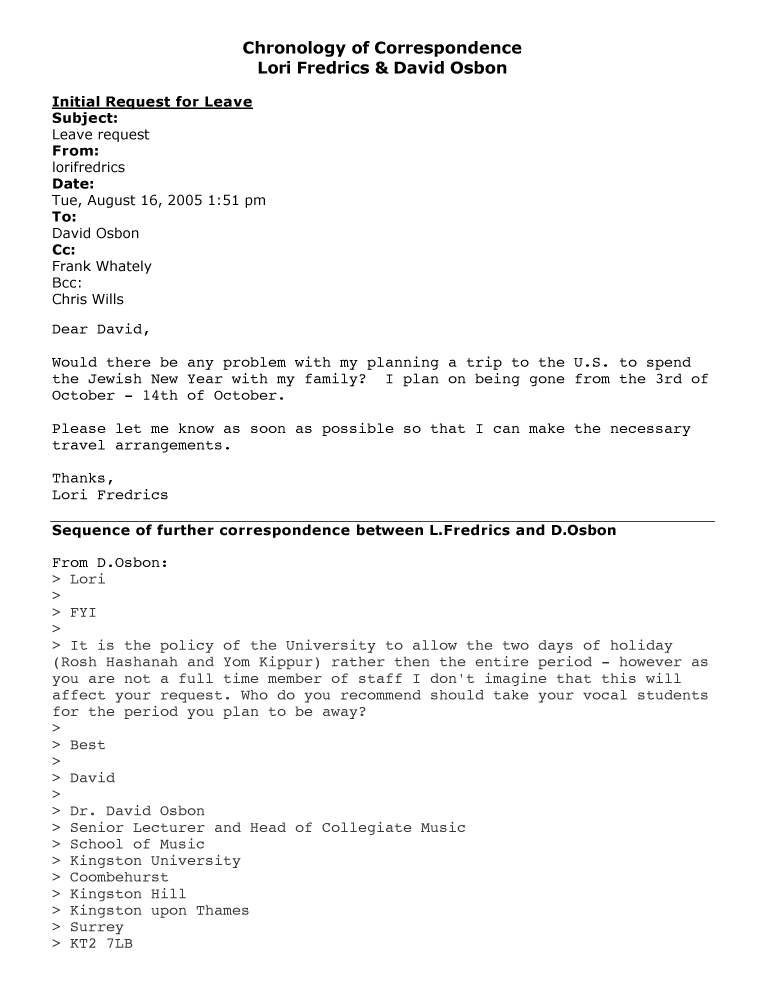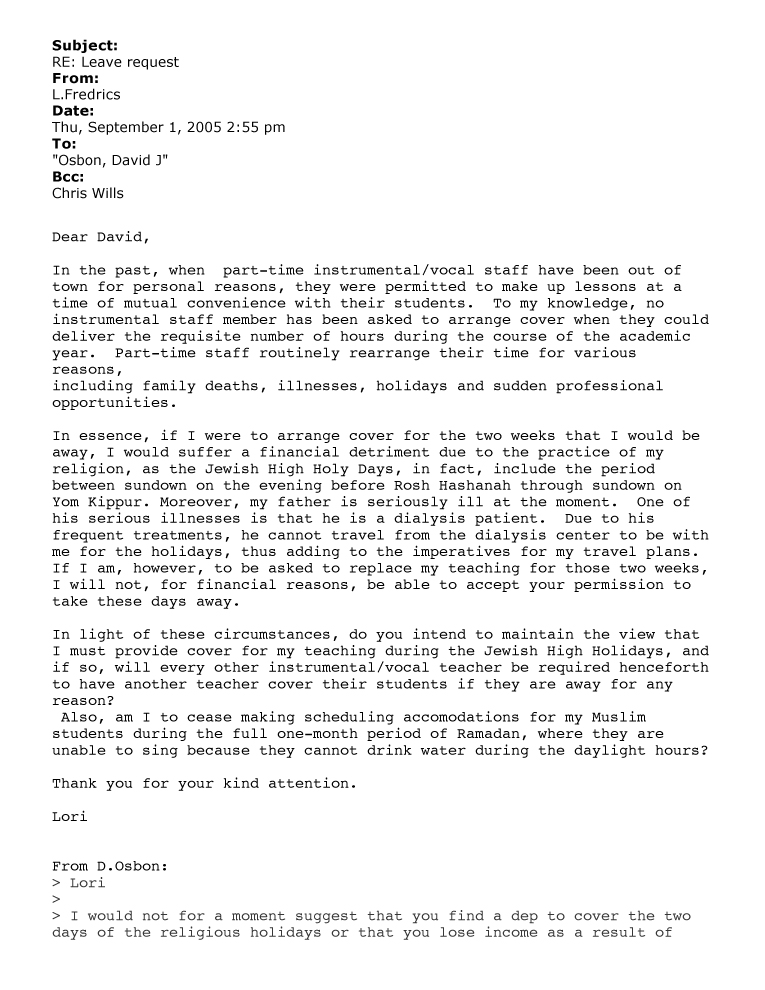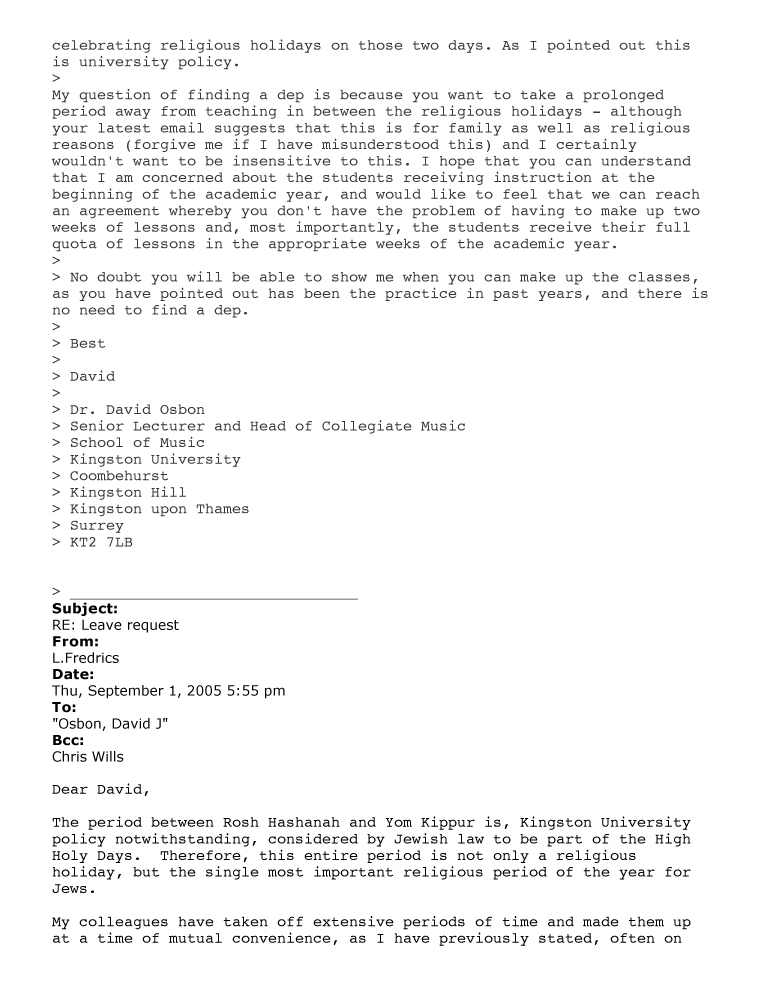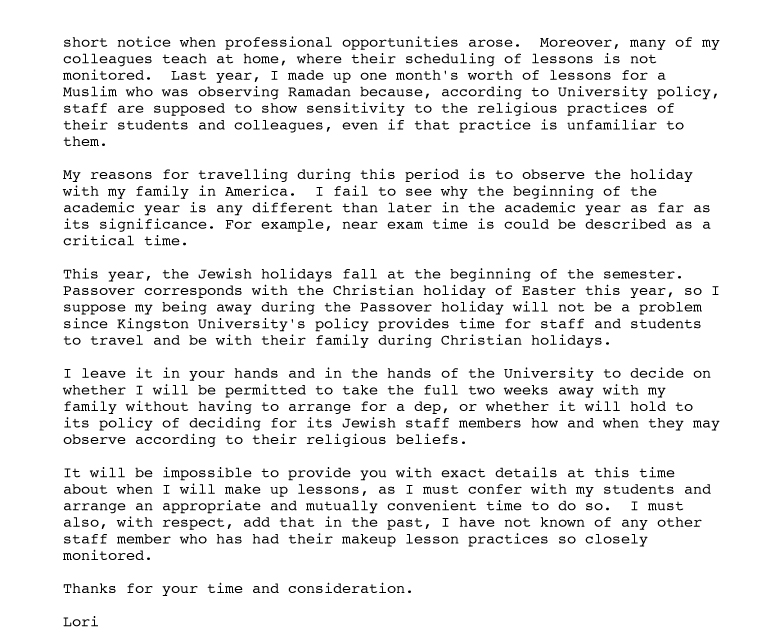 Was it reasonable for David Osbon to insist that Lori Fredrics find a deputy to cover her teaching while she was away during a time when no other similarly situated staff member was required to work?
When Dr Osbon finally agreed to waive the requirement for Ms Fredrics to locate a deputy on the condition that she showed him exactly when she would be making up the lessons, was that condition reasonable in light of the fact that students had not yet been assigned to teachers, and that assignments were not finalized until after the Jewish High Holy Days, thereby presenting an impossible set of conditions for Ms Fredrics to fulfill?

Why do YOU think Dr Osbon voiced his objections to Ms Fredrics' leave request?

Was he acting on his own research into University policy? Or was he acting under the orders of HIS line manager, Dr Carol Gartrell?
If he was merely following Dr Gartrell's orders, why then did SHE want to prevent Ms Fredrics from observing the Jewish High Holy Days in accordance with her religious beliefs?

Was there REALLY a POLICY at the University governing the exact number of days that Jewish staff are permitted to take leave during the Jewish High Holy Days?

If so, why are CHRISTIAN staff members allowed to take substantial time off during Easter and Christmas holiday periods when JEWISH staff members are not given substantial time off during the High Holy Days or during Passover?
Are these policies (if they, indeed, exist) discriminatory against JEWISH staff members?
Or were Dr Osbon's instructions to Ms Fredrics merely reflective of anti-Semitic views held by Carol Gartrell?
Recent reports examine ongoing problems with anti-Semitism in UK Higher Education.

What do YOU think?
---
Following her unsuccesful application for a position at South Thames College, where Kingston University Board of Governors member, Colin Watts was formerly employed as Chair of the Board, KU Board of Governors member, Jenny Scribbins was formerly employed as Principal, and KU Board of Governors member, Thalia Marriot was formerly employed as Deputy Principal, Lori Fredrics wrote to the College to request, under the Data Protection Act 1998, a copy of references sent on her behalf, including a copy of a reference by her line manager, Dr David Osbon.

In response to Ms Fredrics' request, the College wrote to Dr Osbon to ask him if he would voluntarily consent to the forwarding of a copy of his reference for Ms Fredrics.

Here is the sequence of correspondence between South Thames College and Dr Osbon:-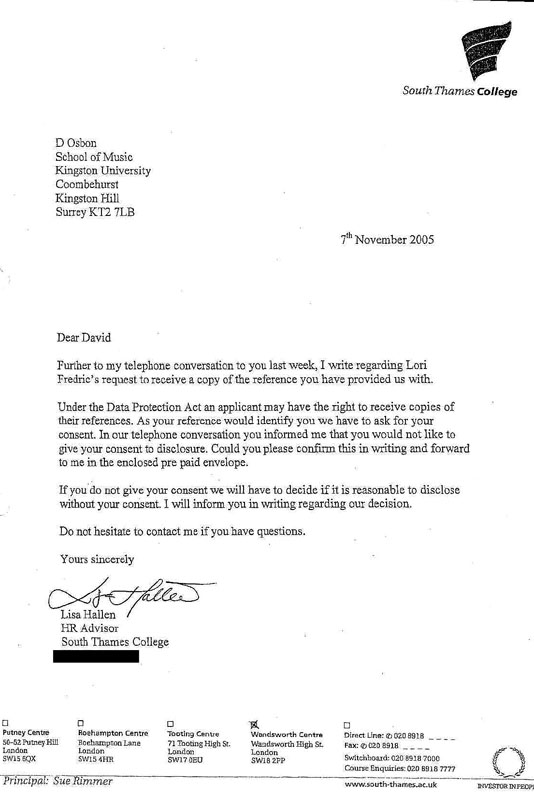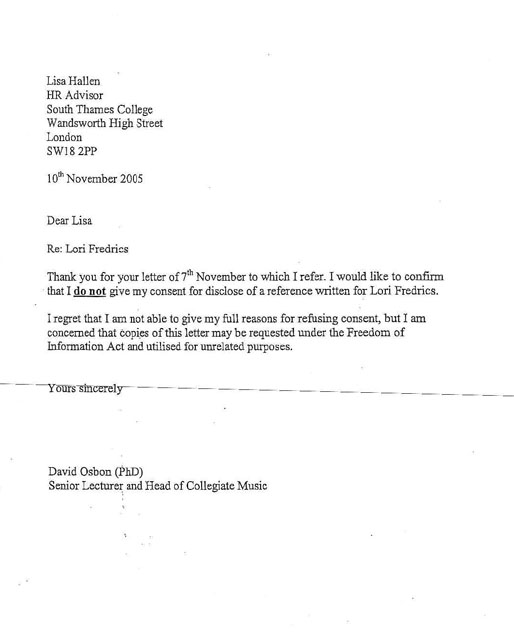 Why was Dr Osbon so adamant about not disclosing a copy of his reference to Ms Fredrics?
What was in the reference that made him so afraid of authorizing South Thames College to send Ms Fredrics a copy?
Was there anything false or defamatory in that reference?
What do you think?

Fortunately, South Thames College was forced, under the Data Protection Act to deny Dr Osbon's request that the reference not be provided to Ms Fredrics:-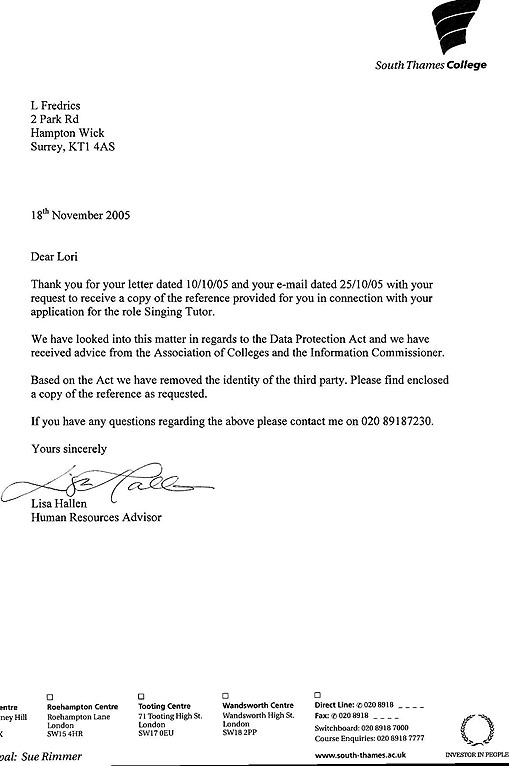 When Ms Fredrics read the contents of the reference, she was quite distressed, as there was no legitimate basis for her to have received the kind of negative reference which Dr Osbon wrote. She then filed a grievance against the University. During the course of the investigation of her claims, the University obtained a letter from South Thames College stating that the Interview Panel had not read the letters of reference when it made its decision to not offer her the position following her rather lengthy interview, thereby reducing the damages which Ms Fredrics was able to subsequently claim in her Employment Tribunal case.

Do you think that Kingston University's close ties to South Thames College through members of its Board of Governors, who were also directly involved in Ms Fredrics' grievance appeal, might have prompted South Thames College to write a letter denying that the letter of reference from Dr Osbon had played any role in the decision to not appoint Ms Fredrics?



---
Does Kingston University engage in discriminatory practices towards Muslim students?

If so, does Kingston University attempt to cover up its discriminatory practices by first claiming to have taken guidance from religious leaders (imams) as a way of proving the propriety of its policies, only to later backtrack on its claims when called into question?
Could it be that the University's solicitors realized that they would not be able to prove the University's claim that they had obtained guidance from imams on the matter of whether or not it was permitted for Muslims to drink water on Ramadan?
What do YOU think?
The following document contains excerpts of statements by the Kingston University Diversity and Equality Officer, questions posed by Ms Lori Fredrics, and subequent responses to those questions by the University's solicitors, following the filing by Ms Fredrics of a discrimination claim with the Employment Tribunal:-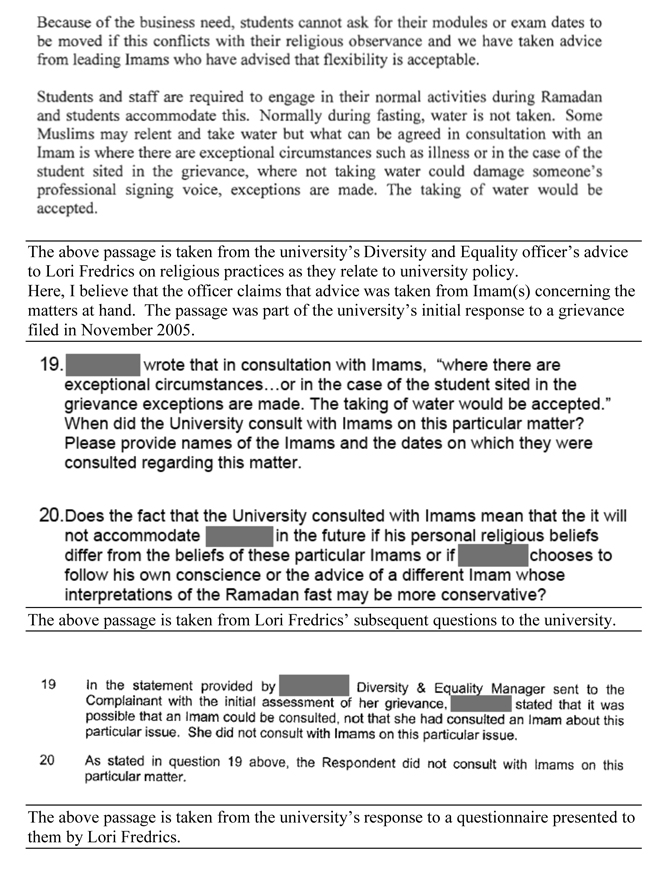 It is widely rumoured that Kingston University went 'imam shopping' at some point after Ms Fredrics filed her Tribunal complaint. Rumour has it that they went in search of an imam who would agree to take the University's position that it had previously set forth, whereby it insisted that drinking water during Ramadan by observant Muslims is permissible when their programme of studies required such flexibility (e.g. if the student was taking singing lessons). They were rumoured to have attempted to cajole a number of imams into agreeing to support their position, but they were unable to find a single imam who would agree to attest that such a position could possibly be justified according to Muslim religious practices. In fact, following these attempts at 'imam shopping' there was apparently considerable anger emanating from the wider Muslim community towards the University's patently false representation of Muslim practice and for their even having dared to go as far as trying to find an imam willing to support the University's offensive and misguided position.

Remember, Ms Fredrics simply asked Dr Osbon whether or not she would be permitted to accomodate a student's religious practices by rescheduling some of his individual lessons at a time of mutual convenience to take place after the end of Ramadan.
Prior to Dr Osbon taking over as Ms Fredrics' line manager, her previous line manager had authorized her to accomodate Muslim students' religious practices during Ramadan by rescheduling their lessons for after the Ramadan period.
Can YOU think of a legitimate business reason why making such accomodations by mutual consent of student and teacher would not be permitted by the University?
Under British Employment Law, as set forth in the case of Wethersfield v Sargent, it is unlawful for an employer to ask an employee to enforce discriminatory practices. If an employer attempts to do so, the employee may put in a claim for discrimination on the basis of having been put in the untenable position of enforcing an unlawful directive by the employer to discriminate on the basis of race, sex or disability.
---
Is proper intellectual debate on academic subject encouraged by Music staff?
Have a look at the following account by students of the conduct by David Osbon towards a student in a class when the student questioned whether or not a piano is considered a percussion instrument. Take note of the response by Dr Osbon, not only towards the student but also towards his colleague, Meredeth White.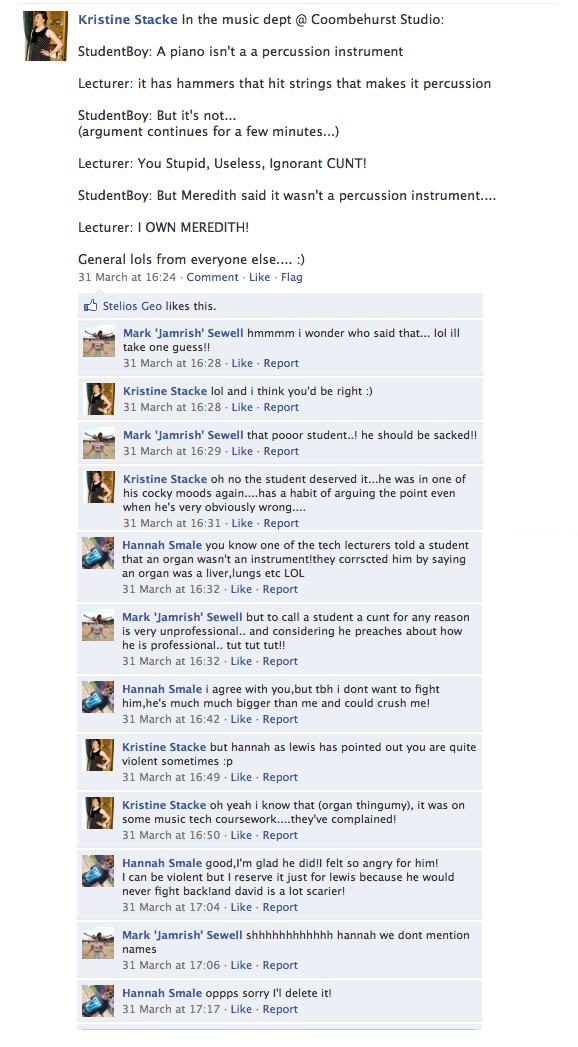 Even if the student is mistaken about their view, is that any way for a lecturer to address a student?
How about the way in which Dr Osbon refers to his colleague?

Should lecturers who behave like this be promoted or should they be sacked for breaching the dignity at work and study regulations of the University?
Why was no disciplinary action taken against Dr Osbon?
Could it be because students are so intimidated by him that they would refuse to make a formal complaint?
What do YOU think?
---
Kingston University Board of Governors Approves New Policy
Allowing Students to Reschedule Assessments to Accommodate Religious Practice
In January, 2012, the Academic Board developed and approved a new policy for allowing students able to present appropriate supporting evidence to enable them to reschedule assessments to accommodate their religious practice.

In May 2012, the Board of Governors approved the Academic Board's policy recommendations, establishing this new policy for all Kingston Students. Thus, although it took several years of this website's presence as well as various discrimination claims and litigation, the Board, to their credit, finally realized that the University's previously discriminatory position was untenable.


---
August 2013 UPDATE:
David Osbon Departs Kingston University
for University of West London
(formerly Thames Valley University)
David Osbon's biography has resurfaced on the website of University of West London, where he is now "Professor."
Interestingly, his bio states that Osbon has "...held lecturing roles at the University of London, South Bank University and Rose Bruford College, whilst holding down a full-time role as Head of Arts and Culture at Greenwich Council..."
Why is there no reference in his bio to his appointment between 2005 - 2013 at Kingston University?

Under what circumstances did David Osbon leave his post at Kingston?

Did David Osbon ever hold a lectureship at University of London?
Read more about David Osbon on his page at University of West London.