Kingston University
School of Music
Bullying and Stress
NOT a Recipe for Success
What did the University know?
And when did they know about it?
In total, between 2004-2005, there were at least five full-time staff members in the School of Music who were signed off for long-term stress-related sick leave.

One of these staff members was the School's Technical Officer, who was responsible for providing the bulk of support for students and staff. This highly dedicated and experienced staff member had served the School well for many years prior to his going off on sick leave.

So how did the Acting Head of School, Dr Carol Gartrell view the absence of this vital member of the team? What level of human compassion did she exhibit towards a valued member of staff who was unwell?

Listen to the following recording of a meeting held in December, 2004 between Dr Gartrell and Dr Howard Fredrics, in which they discussed the School's lack of adequate technical support during the absence of the Technical Officer:-

"If we lose Andy -- he is earning a significant amount of money. I mean, he's earning more than quite a few of the lecturing staff. If we lose Andy, we could have one and a half technicians....possibly even more, I don't know, but certainly one and a half, I would think."
-Dr. C. Gartrell
DOES THIS SEEM LIKE AN APPROPRIATE RESPONSE BY A MANAGER TO THE ILLNESS OF A LONG-TIME STAFF MEMBER?

What do YOU think?
---
When one of the School of Music's key full-time staff members, who had been signed off on stress-related sick leave for a number of months, remained too ill to return to work during the Fall of 2004, instead of providing properly-resourced teaching cover for the modules that the staff member was to have taught, Dr Carol Gartrell pressurized Dr Fredrics at the last possible moment into teaching a rather labour-intensive module with over 20 students, though he was to have received course release time through an AHRB grant in order to work on composing an opera with a schduled performance date of March 2005.

In exchange for taking on this substantial extra teaching load, Dr Gartrell offered to reduce Dr Fredrics' undergrad dissertation supervision load by one or two students, work which amounted to a maximum of approximately 40 minutes/week for the requisite two tutorials.

Does this seem fair to you?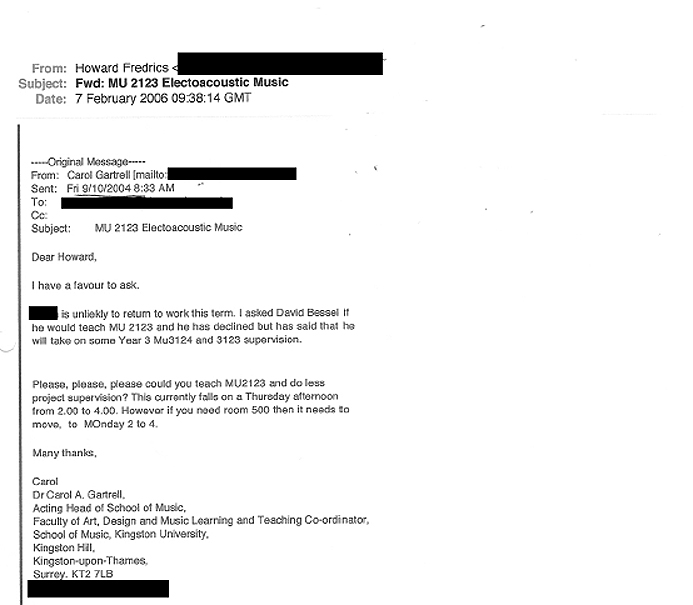 Given that staff members on sick leave receive payments through a government-sponsered scheme, what did Dr Gartrell do with the extra available resources?

Why did she not spend it on providing teaching cover? Could it be because someone at the Faculty or University level of management clawed away these resources from the School for other purposes? Or did Dr Gartrell, herself, have in mind the notion of loading up Dr Fredrics with extra teaching in order to impede his research work and/or to cause him stress?

What do YOU think?
---
The following is a letter written in approximately late December of 2004 from from Kingston University's Occupational Health Nurse, Ms Wendy Glynn to Personnel Officer, Ms Margaret Taylor regarding Ms Glynn's observations about Dr Fredrics' stress levels, the cause of this stress, and her concern that Dr Fredrics might just be the next person in the Faculty of Art, Design & Music to fall victim to the pressures of workplace-related stress:-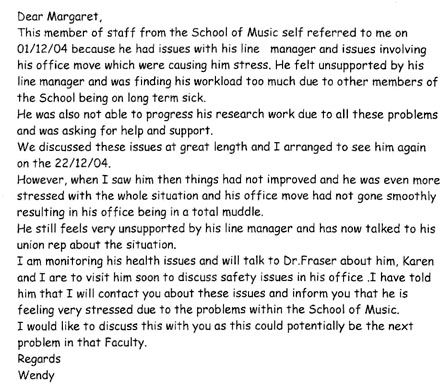 How did the University respond to Ms Glynn's concerns?
Did they really try to help Dr Fredrics to cope before he became yet another School of Music staff casualty?
Or did they first ignore and then victimize him for reporting a genuine concern about his health and safety?
Should staff members have to suffer in silence when they become ill from being bullied and/or overworked?

Read the following documents and decide the answers to these questions for yourself:-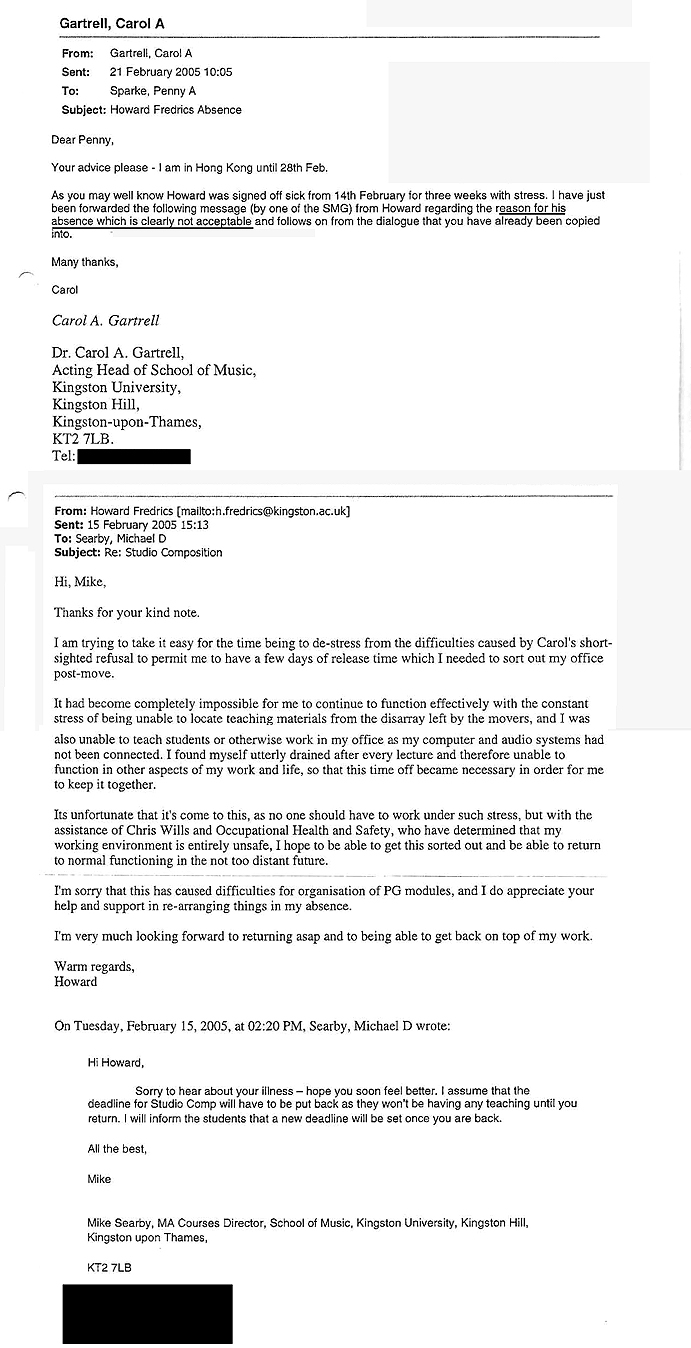 In reading the above document, some questions to consider are:-
Why did MA Course Director, Mike Searby forward Dr Fredrics' e-mail to Acting Head of School, Carol Gartrell?

Why did Carol Gartrell state to Dean of Faculty, Prof. Penny Sparke that Dr Fredrics' reason for being absent was "unacceptable" when he had been signed off by a doctor suffering from stress-related depression and anxiety?

Was there anything "unacceptable" about Dr Fredrics wanting to explain his absence to the MA Course Director, Mr. Searby?

Is there anything in Dr Fredrics' e-mail to Mike Searby that suggests for even a moment that he was anything other than fully committed to doing his best to return to work as soon as humanly possible?

Given that Dr Fredrics indicated on his pre-employment Occupational Health Questionnaire that he suffered from the ongoing stress-induced conditions of Reactive Depression and Gastro-Esophageal Reflux Disorder, why did Dr Gartrell and the University fail to make reasonable accomodations to help avoid a stressful office/studio moving experience, especially after Dr Fredrics informed Ms Glynn and Dr Gartrell of the impact that the botched move was having on his stress levels?
What do YOU think?
---
In the former School of Music, no good deed goes unpunished. Does this constitute a form of bullying?
What do you think?
Here's an example of the kind of behind-the-scenes discourse, which management has allowed to take place:-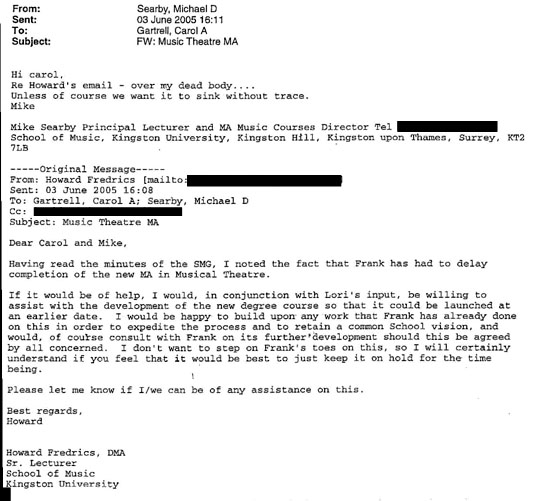 ---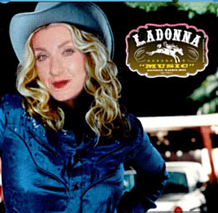 When Dr Fredrics became ill from bullying-induced stress, some of his colleagues were quite sympathetic and supportive, while others used his illness to engage in behind-the-scenes bullying.

Did they know that making fun of a colleague's disability of Gastro-Esophageal Reflux Disorder (GERD) was an unlawful breach of the DDA of 1995?

Here is an example of an email exchange between Frank Millward and Mike Searby:-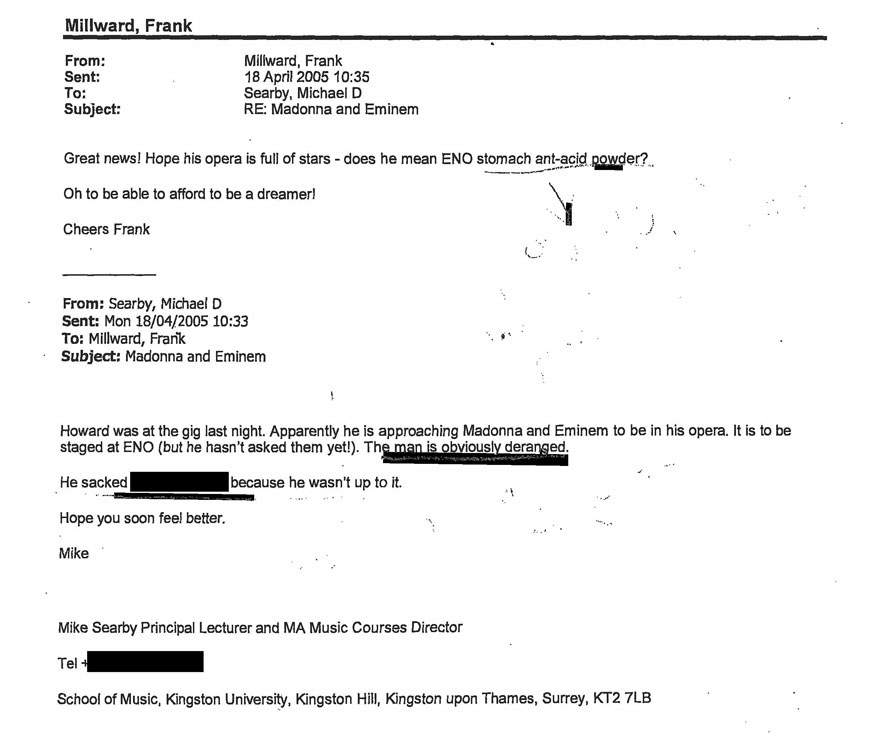 Why would these two colleagues resort to writing such such an email about a colleague?
Do you think their correspondence was appropriate professional discourse?
If not, then why were they not then subjected to disciplinary action for breach of dignity at work?

Why, indeed?
UPDATE:
Jewish boxer and friend of Dr Howard Fredrics, Dimitry Salita may, indeed, have his life portrayed on screen by none other than Eminem. Click HERE for more details...
Perhaps Dr Fredrics is not deranged after all...
---
After Ms Glynn wrote to the University's Personnel Office to inform them of the health and safety issues affecting Dr Fredrics, the University failed to take timely measures to assist Dr Fredrics in making reasonable adjustments to his working environment and to help to resolve the underlying causes of his stress.
In February 2005, faced with no other choice, Dr Fredrics, accompanied by his union representative, met with the Dean of Faculty of Art, Design and Music, Prof Penny Sparke to discuss a formal grievance, which he presented to Prof Sparke, along with a binder of supporting documentation, in the hopes that this would result in an open and honest process of resolution of the issues affecting School of Music staff:
Current Work Condition Issues
School of Music
February 2005
1. Health and Safety
a. Second floor of Coombehurst has consistently shown temperatures in excess of 30 degrees Celsius between the months of May and September. There is no source of air conditioning for staff/student studios/offices. A small fan was provided to one staff member in response to a request for a room AC unit. Acting Head of School belittled staff member about these conditions stating that other staff members were "happy" with their office condition. This having been said despite the fact that staff member takes medication which has as a side effect, extreme heat sensitivity.
b. Wiring and ergonomic design is not conducive to good health and safety in Staff office Coombehurst Rm. 522 as per report of Occupational Health and Safety.
c. Stress levels of staff are untenably high due to extreme workload, lack of technical support and proper facilities for working (see a. and b. above). Absence of three senior staff members, including the Technical Officer, who are on stress-related leave is exacerbating the problem, as replacement cover has not been full actioned. As in indicator of stress within the School, one FT Course Administrator left due to the demands of the job, and the current Course Administrator was signed off for at least three weeks for stress in the past academic year. Staff member has now been signed off by his GP due to extreme stress caused by actions of Head of School as outlined in this document.
d. Inadequate technical support for staff members, who have, because of lack of support, suffered injuries when moving equipment used in teaching and research.
2. Undermining of Staff by Acting Head of School
a. Acting Head of School has repeatedly undermined a staff member's professional reputation and work and has created an hostile work environment by:
1. Distributing e-mails critical of staff member in public forums instead of meeting with staff member in private.
2. Generating and distributing School Five Year Plan containing biased, misleading and inaccurate information, without input from relevant Staff member, with the appearance of the intent to have the staff member's area of teaching closed down by the Faculty.
3. Failure to provide two modules of research-related course release to staff member, paid for by AHRB grant. Only one module of release was given, but this was, in turn, replaced by the addition of a module at the last moment, which would normally be taught by an absent staff member. And in addition, staff member was assigned to cover PhD supervision for the absent staff member.
4. Failure to take accurate notes during a recorded meeting in which staff members discussed an incident of verbal bullying which took place and which has affected the ability of the staff member to perform his job duties.
5. Making stress-inducing phone calls of an ominous nature to staff member's mobile phone during a time when staff member was on leave to care for critically ill family members. In this instance, a server failure immediately prior to the start of family leave had caused the staff member to be unable to access properly formatted student mark data relevant to reassessments, though he provided the information as marks on the actual pieces of work.
6. Failure to provide equitable support for advertising in Society for Promotion of New Music publication. Acting head of school provided funding for advertising of an event involving another CMT staff member while denying such support for staff member for advertising of a KU/AHRB sponsored event.
3. Prior and Ongoing Workload and Working Condition Issues
a. During the 2002-03 Academic Year, staff member was assigned to both teach a full load of modules and to develop course curriculum for validation of a new MA program. No self-managed time was made available as per contract.
b. During 2003-04 Academic Year, staff member was assigned a teaching and module leadership load of six modules during the fall semester, whereas normal School loads are between three and four modules (or equivalent). Additional module leadership was also assigned of two modules where staff member did not provide lectures.
c. This was combined with assignment to replace the then Head of School in an ongoing research project (MusicWeb) that necessitated 39 days of full-time work, much of which required overseas travel, without compensation or release from other duties. The University received payment for this additional work performed by the staff member.
d. During September of 2004, the School of Music Server crashed due to the actions of a student worker. The student was inappropriately assigned to provide cover for absent Technical Officer. Since this crash, the server has not been restored to functioning status. Staff member's web-based research is therefore no longer available to the international community. This event coincided with a cover article in a prestigious international journal, which featured the staff member's research. Irreparable damage has therefore been done to staff member's professional reputation, as users were not able to access the relevant website and have been deluging the staff member with requests for an explanation of why this material is no longer available.
e. Relevant to item d. above, staff member brought with him and loaned approximately £10000 worth of software provided by a private company for whom staff member performed research. This was done with the understanding that the School of Music would provide startup funding of approximately £6000 to purchase equipment needed to continue this research towards the development of a commercial product in partnership with REDACTED., the benefits of which were presented in a five-year plan that projected in excess of £100,000 profit for the University in sales revenues. To date the School and University have not provided funds for this plan.
f. There is currently a 0.5 PT staff member in Music Technology whose contract permits him to be present on campus for a total of two days per week maximum with no flexibility of dates. As modules co-assigned to this staff member have been timetabled to meet occasionally (approx. four times per semester) on days other than those stipulated in the contract, workload for cover has been shifted onto another staff member.
g. Moreover, the PT staff member was permitted to be absent for the first month of the semester during Fall 2004 for professional engagements, during which time, another staff member was required to provide cover without compensation. This time period cannot equitably be made up by exchange during later parts of the semester, as the first month of the semester requires more working hours to launch new modules successfully.
h. The staff member's appraisal stipulates one day per week of self-managed time for keeping current with new developments in technology and for research activities. Such time has not been provided due to excess teaching and administrative loads.
i. Staff member was reassigned to a new office in two stages as follows:
During the summer of 2004, staff member was assigned to move for temporary use, part of his musical/computer equipment for research into absent Head of School's office in order to provide a safe climate for work.
Subsequently, staff member was assigned to move the entire contents of both his regular and temporary office spaces to a new office on 1st floor during mid-October of the Fall 2004 semester. Minimal physical assistance was provided for moving between offices during these two occasions, resulting in significant injury to staff member's shoulder.
Staff member requested one week of release and physical and technical support in order to both move the remaining musical and computer equipment and to wire it properly into a functional and safe studio environment. This request was made at least twice in writing during October and November 2004 and was denied by Acting Head of School, citing "union contract" rules that stipulate a maximum release of one day for "office moves."
Ultimately, office contents were moved by university-contracted staff, and a promise made of assistance from technical support staff for wiring equipment. The contents, however, were haphazardly arranged in office and much of the contents of the move remain in crates, with no further assistance provided for arranging contents and wiring studio equipment.
Thus, the office remains an untenable work environment, as stipulated by KU's Occupational Health and Safety Office.
Prof Sparke, despite pleading by Dr Fredrics' union representative for her to at least read the accompanying evidence to determine the veracity of Dr Fredrics' concerns, indicated quite clearly that she would not consider the grievance, nor would she read the evidence -- the majority of issues were simply never dealt with by the University, a violation of statutory Dispute Resolution regulations.
Do YOU think it is good management practice to allow grievances of this nature to fester?
Why did Prof Sparke refuse to even look at the supporting evidence?
Could it be because she was not given proper management training by the University?
Or could it be that she didn't want to know about the numerous violations of the University's duty of care obligation? After all, if the University 'didn't know' about them, then they couldn't be held legally responsible.....or could they?

What do YOU think?
In late February 2005, after Dr Fredrics had been signed off for stress related sick leave, Prof Sparke agreed to meet again with Dr Fredrics ostensibly to attempt, belatedly, to address the substance of his concerns that led to his ill health. Although Prof Sparke continued to refuse to accept written documentation in support of Dr Fredrics' grievance, Dr Fredrics, once again referred to the substance of his grievance which he'd raised in approximately late January, several weeks prior to this further meeting, providing specific paragraph references in order to draw Prof Sparke's attention to the matters at hand.
Listen to a recording of this meeting so that you can hear for yourself the various acknowledgments by Prof Sparke of ongoing management problems in the School of Music, and the raising of concerns about health and safety, bullying, and other relevant public interest disclosures by Dr Fredrics. Notable is Prof Sparke's admission that the University had effectively breached its responsibility for providing staff sick leave cover via government-provided funds. She indicates that there are no such funds available for cover. But the truth is that when a staff member goes on sick leave, they are paid by government funds for that leave, leaving normal university staff salary resources available to pay for the hiring of staff cover. Where did these funds go?

Following his having provided his grievance of February 2005 to Prof Sparke, Dr Gartrell pursuaded Dr Fredrics' colleagues to sign a collective grievance against him for having allegedly caused a 'breakdown in working relationships.'

But if one considers the nature of Dr Fredrics' February 2005 grievance, it could very well be said that, if proven to be true, the circumstance and situations arising from Dr Gartrell's alleged conduct could have easily caused a 'breakdown in working relationships' with Dr Fredrics, and could have undermined his relationship with colleagues.
Yet, the University never investigated nor did they provide a formal response to the detailed and specific set of points raised in Dr Fredrics' grievance.
Does that seem fair to YOU?
---
Organized Bullying
Several unnamed senior staff members have recently reported that they attended an induction meeting for newly appointed senior staff members at which they were clearly and explicitly instructed by the now former Personnel Director, Liz Lanchbery (aka Liz Scholey) in bullying techniques, which amounted to 'psychological torture'.
These techniques, involving identifying and repeatedly pushing the emotional buttons of targets, were to be applied to junior staff (or in some cases, senior staff) whom they wanted to get rid of.

The intended effect was to drive the target to the point where he/she became physically and/or psychologically injured and was forced to retire or resign due to ill health, or else to cause the target to defend her/himself against the extreme bullying behavior by 'acting out' so as to create a cause for dismissal on grounds of 'gross misconduct' and/or a 'breakdown in working relationships' (SOSR).

Could the examples cited on this site have been the sort of techniques advocated by Mrs Lanchbery (Mrs Scholey)?

What do YOU think?

---
Legal Opinion
Mr Adam Solomon, Barrister-at-Law
Cloisters Chambers

"In order to succeed in a claim under the 1997 [Protection from Harassment] Act, Dr Fredrics must also demonstrate that Kingston is vicariously liable for the acts of its employees on which he relies. In my opinion, he would be able to demonstrate this.
In my opinion, it is arguable that Kingston should have been able to foresee that stress would cause Dr Fredrics personal injury, on the basis that he informed them prior to his employment that he suffered from depression. Further, as from the time of receipt of the document at Tab 2 (the undated note from Wendy in Occupational Health), Kingston were on notice that Dr Fredrics was being caused stress from the working environment."
---
Death by Suicide?

One of the UK's leading experts on workplace bullying/stress and on ethical human resource practices, Prof Diana Winstanley died in July 2006, less than two weeks prior to Dr Fredrics' dismissal, which followed his having reported serious health and safety violations, including an unusually high number of cases of work-related stress injuries in his faculty.
Interestingly, Prof Winstanley had, along with her colleague, Jean Woodall, previously put in a complaint about having sufffered discrimination at the hands of the University on grounds of her sex. They both succeeded in winning claims for Sex Discrimination at an Employment Tribunal.
To learn more about the circumstances of Prof Winstanley's untimely death, link to:
http://bulliedacademics.blogspot.com/2007/02/how-many-silent-witnesses.html
http://bulliedacademics.blogspot.com/2007/08/bullying-major-factor-in-suicide.html#links
---

Post-Traumatic Stress Disorder, Asthma and Haemorrhagic Gastritis:
Is There A Connection?
Dr Fredrics was diagnosed in April 2006 with Post-Traumatic Stress Disorder (PTSD)
He was later diagnosed in October 2006 with Severe Haemorrhagic Gastritis (bleeding of the stomach lining).
Dr Fredrics also happens to have a history of Asthma.

All THREE conditions are linked to and/or exacerbated by exposure to severe emotional duress/stress.

Here is scientific evidence of the link between the conditions: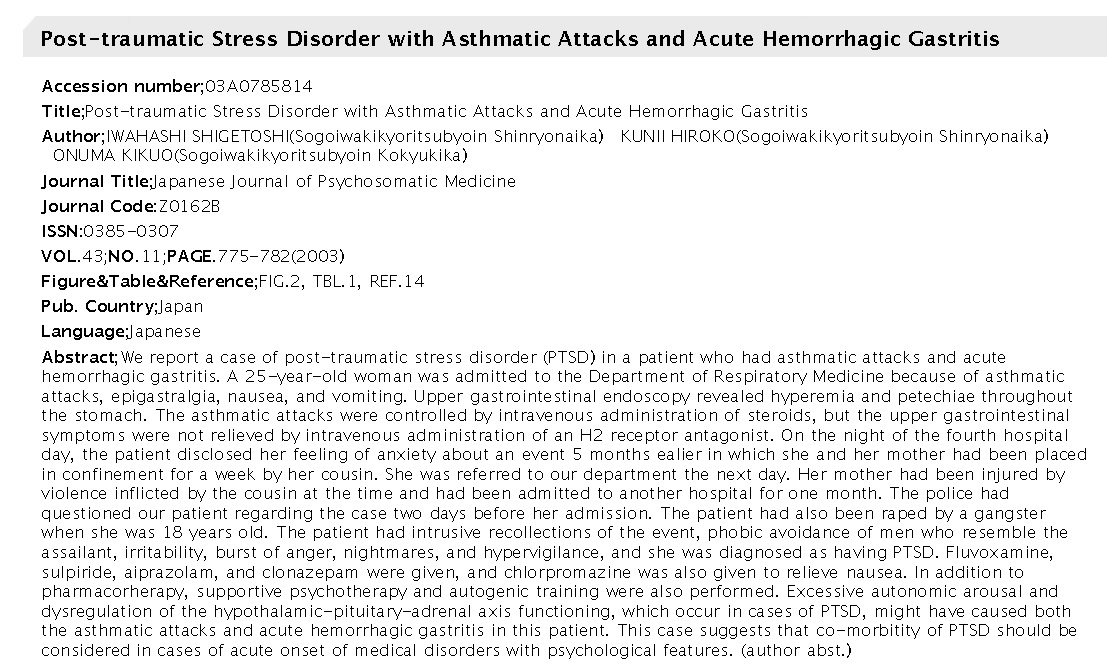 ---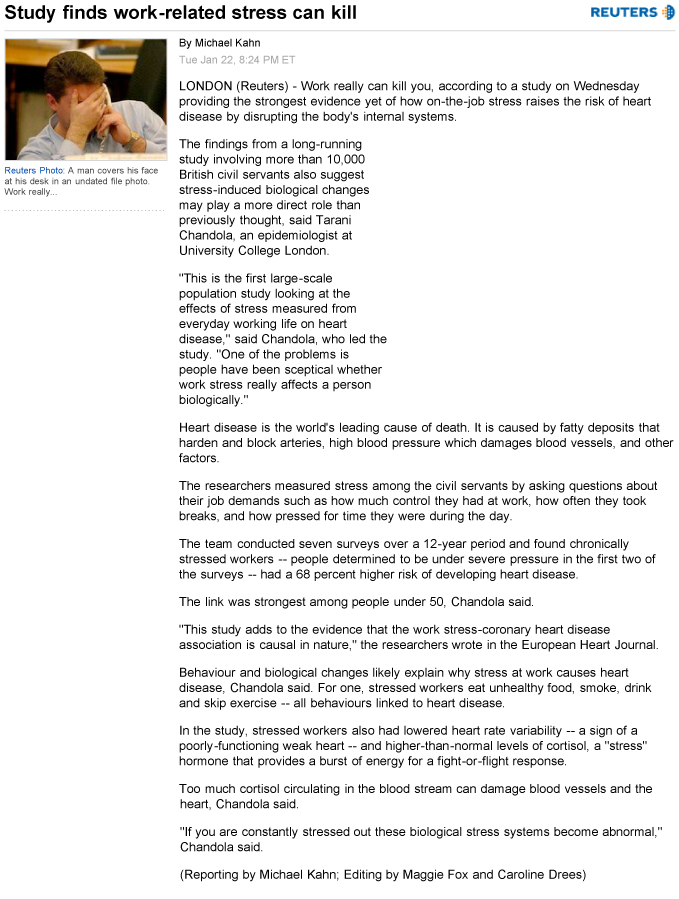 ---
Depression Awareness Week
21-28 April 2008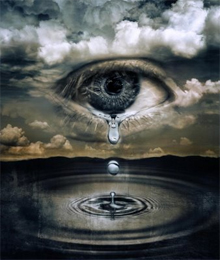 ACAS has issued new guidelines on helping employees with depression at work:-
Research shows that bosses underestimate how much their colleagues and employees are suffering from stress, anxiety and depression.
http://www.acas.org.uk/index.aspx?articleid=2053
---
Workplace Bullying and Stress
Remain Serious Problems at Kingston University
According to a recently published 2012 UCU survey, bullying and relationship-related workplace stress remain as serious problems at Kingston University, resulting in stress-related illness and lost productivity. 11.9% of staff surveyed reported that they were either 'always' or 'often' subject to bullying.