Excerpts from Prior Cases Against
Kingston University

This section of the site provides examples drawn from the numerous Employment Tribunal and personal harassment cases filed against Kingston University by its employees and students since 1997, when Sir Peter Scott took over as Vice-Chancellor.
Initially, key excerpts from case judgments will be provided in order to give a brief overview of the most common issues affecting Kingston staff.

As you read these excerpts, ask yourself if ALL of these claims, many of which were struck out without ever being heard, could possibly have been without merit?

Or could it be that Kingston's treatment of staff and students caused such severe injuries as well as financial loss to these staff members so as to render them distinctly disadvantaged against Kingston University, with its highly paid team of barristers and solicitors -- all paid for at taxpayer expense?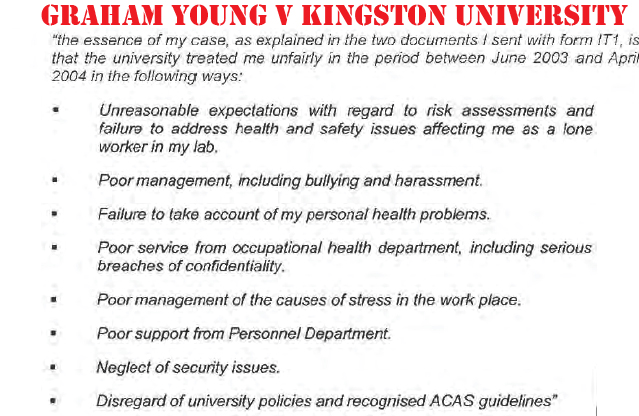 (n.b. Does any of this seem familiar?)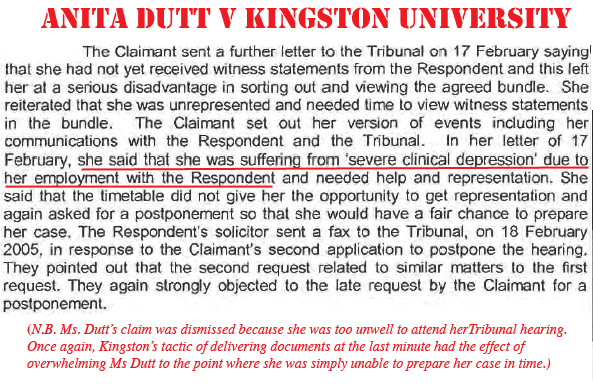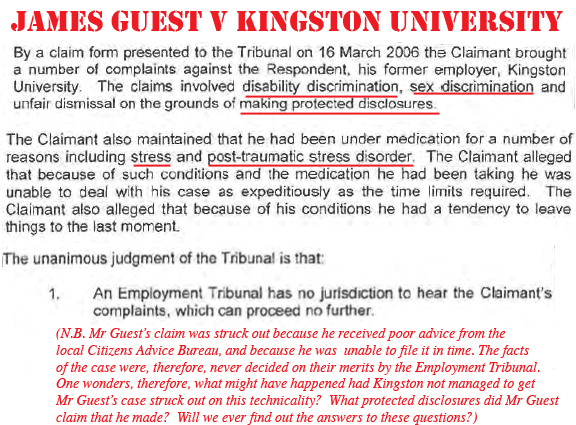 A Cunningham v Kingston University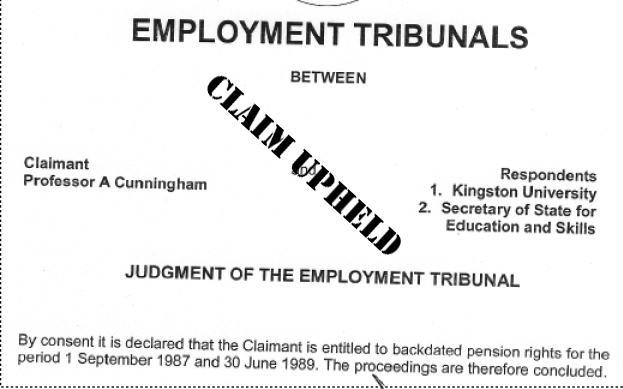 N.B. 'A Cunningham' is, in fact, none other than Prof Gail Cunningham, Dean of FASS, who was the author of a letter of dissmissal in the case of Dr Howard Fredrics.

Kingston is told to lay off student
24 September 2004
Alan Thomson
Kingston University has been served with a court injunction ordering it to stop harassing one of its disabled students.
The order made by Kingston upon Thames County Court on September 14, says the university is forbidden, whether itself or by instructing or encouraging any other person, to harass Francois Greeff. Failure to comply with an injunction can result in a fine, a prison sentence or both.
Mr Greeff, who has bipolar affective disorder, was studying for a masters degree in business studies. He was expelled from Kingston in July after a dispute that stretched back to last year, when he was found to be in breach of health and safety rules at his hall of residence. He was told to quit his room in February.
Mr Greeff, who spent years living rough, told the court that the university had twice changed the locks to his room and had cut off his water supply.
The university says there has been no harassment, stating that the locks had been changed because Mr Greeff had lost his keys and that the water had been turned off temporarily by workmen.
The university told The Times Higher that it had made every effort to resolve the dispute and had complied fully with the Disability Discrimination Act. It expelled Mr Greeff on the grounds of unacceptable behaviour towards staff and students.
University representatives will appear before the court on Tuesday to request the lifting of the injunction.
Mr Greeff's appeal against expulsion is due to be heard at the university on October 14.
---
Francois Greef's Story
In His Own Words
I am currently suing Kingston University for Disability Discrimination in
the Central London County Court, Claim Number 5CL13107.
Kingston University severely harassed me until the County Court in Kingston issued
an order restraining Kingston University from harassing Francois Greeff. The
Case Number on the Court Order is: 4KT03658, dated 14 September 2004.
I was sent an email from the Halls Management office at Kingston Hill on 23
July 2004, while I was living in Halls. The computer from which the email
was sent was positively identified by its ISP server address. "Sent by
a006482-145.king.ac.uk (141.241.93.93)". This email, sent to me by Kingston
University, read:
"You are an absolute c*&t get a life"
Kingston University wrongfully expelled me, and the Office of the
Independent Adjudicator for Higher Education told them to reverse the
expulsion and to pay me an amount of money in compensation. KU took me back
as a student, but never paid the compensation money. KU is Self Governing,
and thus not accountable to the Office of the Independent Adjudicator for
Higher Education, which has NO power to enforce its decisions.
---
Does Kingston University
Breach the Spirit, if Not the Letter
of the Landlord and Tenant Act of 1988?
Does the University use its exemption from the Landlord and Tenant Act as license to, in effect, bully students out of their courses by cancelling their enrollment at the University if they fail to pay rent on their University-owned housing, even where there is a legitimate and ongoing landlord-tenant dispute in progress?
If so, do you think it is right and fair for the University to use this sort of leverage to pressurize students into paying rent by denying them access to the education for which they've already paid in the form of student fees?
Read the following article by former Kingston University postgraduate student, Francois Greeff and decide for yourself:-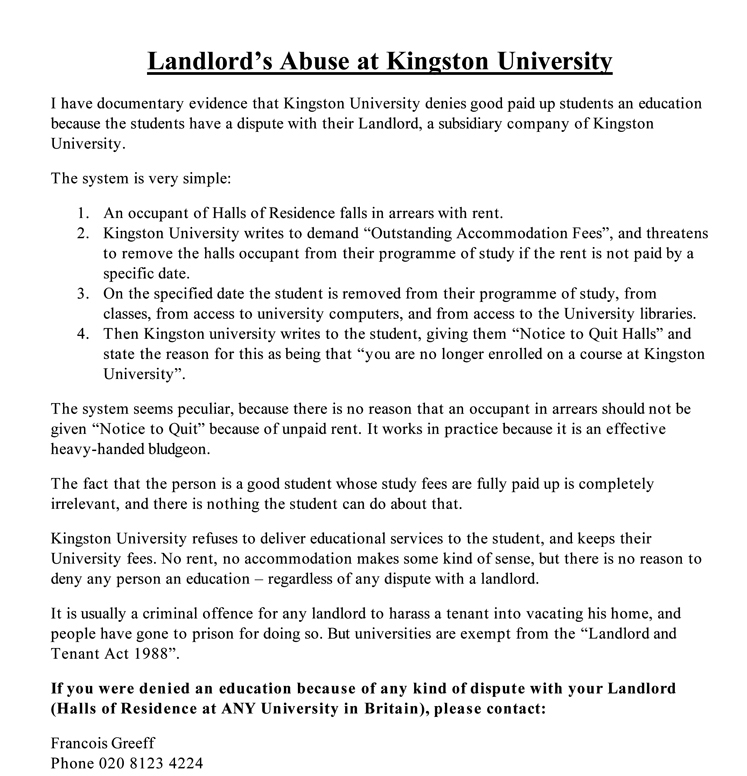 Email: GoodGreef@hiddencode.co.uk
Cases with Gag Clauses

D Braes v Kingston University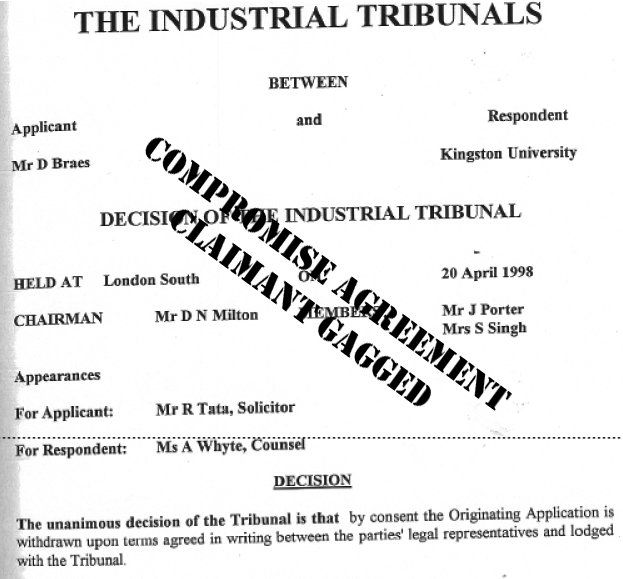 S C Sonahee v Kingston University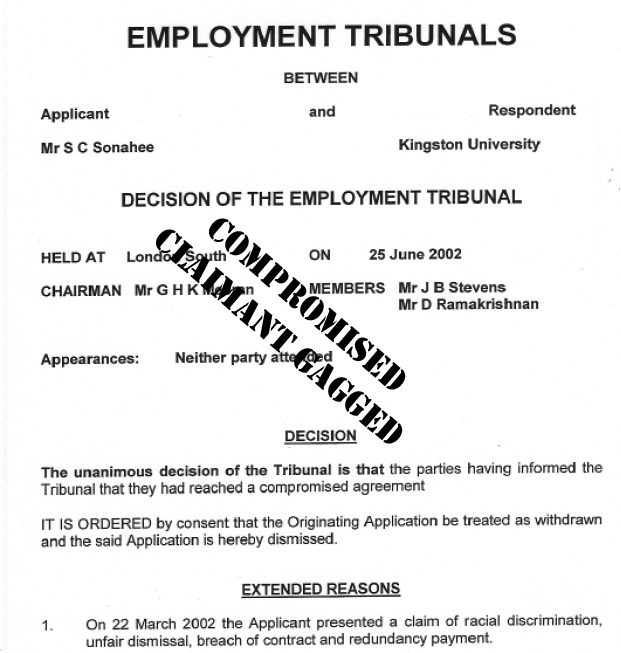 Edward Morris v Kingston University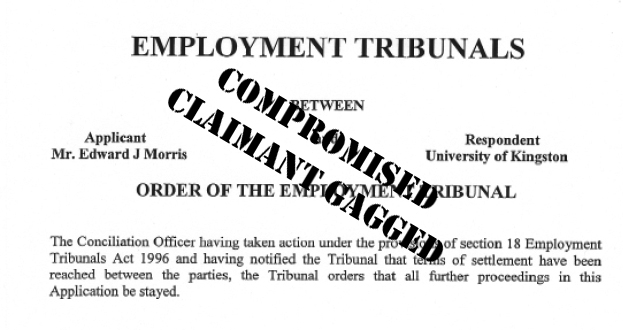 MANY MORE CASE EXCERPTS - COMING SOON!